Posted on June 19th, 2008 in Uncategorized and tagged checklist, Glenn Stennes, Idea Map, Idea Mapping, Mind Map
A client had a problem with purchasing staff not checking that all the pertinent information was covered when preparing contracts. This resulted in contracts missing important details.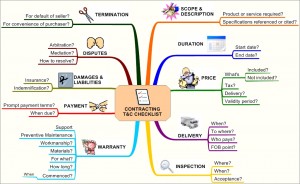 Using Mindjet MindManager, I created an idea map checklist – I also converted it to a linear document. Both documents were sent to the buyers as pdf files. It was interesting to note that they all printed out the map and taped it to their cubicle wall.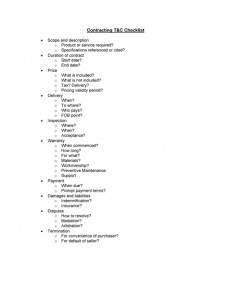 The linear document was not seen anywhere. When asked why they preferred the map, everyone said they liked the colors, imagery, and that it was interesting to look at (particularly the little guy holding the gold). The most important thing was that an immediate improvement could be seen in the quality of contracts being prepared – buyers were actually using the checklist.
Bookmark and Share
Close
Bookmark and Share This Page
Copy HTML:
If you like this then please subscribe to the
RSS Feed
.