Posted on June 23rd, 2008 in Uncategorized and tagged Glenn Stennes, Idea Map, Idea Mapping, Mind Map, Mind Mapping
Idea Mapping is a great way to capture thoughts that are "popping" out of the brain quickly.
A few weeks ago I received an email from the daughter of a friend who was planning to visit South East Europe for an internship. She had not traveled here before and wanted to find out if there was anything she should know about before she came. To prepare my response, I opened up MindManager and within a couple of minutes produced this map.
This is one of the things that makes Idea Mapping such a powerful tool, the means to capture ideas no matter what the order and quickly build on them. MindManager provides a great tool which enables the ideas to be moved around and deleted quickly. Because of this freedom I can get my thoughts down quicker than I could in a linear fashion. Whenever I wrote in a linear fashion (note the past tense) I always wanted to work in a chronological fashion – and usually got stuck on some detail. Idea Mapping has taught me to "go where my brain goes" – I clean up the mess later.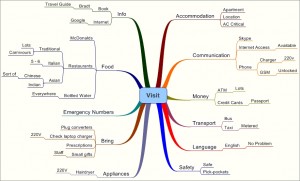 Bookmark and Share
Close
Bookmark and Share This Page
Copy HTML:
If you like this then please subscribe to the
RSS Feed
.