Posted on July 16th, 2008 in Uncategorized and tagged Glenn Stennes, Idea Map, Idea Mapping, image only map, Mind Map, Mind Mapping, mindjet, mindmanager
I enjoy adding images to my idea maps. During meetings or brainstorming sessions, I take advantage of pauses in the discussion to insert clip art images in the map. The colours and images do have a positive effect on participants and help stimulate more "whole brained thinking."
Just for fun I created this idea map using only images. While it doesn't matter if anyone else can understand a personal idea map; I'm sure you will be able to figure out what event I was planning when creating this map.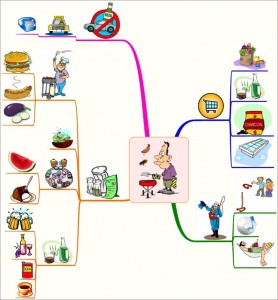 Bookmark and Share
Close
Bookmark and Share This Page
Copy HTML:
If you like this then please subscribe to the
RSS Feed
.