Posted on June 17th, 2008 in Uncategorized and tagged Capturing Ideas, Glenn Stennes, Idea Capturing Tool, Idea Map, Idea Mapping, Mind Map, Mind Mapping, Notepad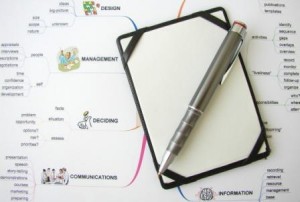 Since Idea Mapping is a thinking tool that starts with a central idea/purpose here's a tip for capturing those ideas, thoughts, blinding flashes of the obvious (BFO), etc.
I don't get the most creative ideas when I'm sitting behind a desk – usually something "pops" into my head when I am having coffee with a friend, working in the garden, reading a book or just daydreaming. Up until a few years ago my pocket was filled with scraps of paper, napkins, post it notes, leaves and anything else that was handy to scribble on at the moment. When I couldn't find something to write on many of my most brilliant ideas (like the big fish that got away) disappeared as quickly as they came. My wife gave me one of the most wonderful gifts ever – it's greatness is in it's simplicity. While some may refer to it as a notepad to me it has become a constant companion – always there when that resounding "pop" goes off in my brain – I'm never without it, even at night it sits quietly next to the bed, waiting patiently to be grabbed in the dark. Ok, I'll admit I have become a bit obsessed about it, but hey it helps me free up my mental RAM. I call it my Idea Capturing Tool as it is so much more than just a mere notepad!
Some of these ideas and thoughts might be as mundane as remembering to pick up a carton of milk, but others are things that I want to develop that relate to work I am doing for a client or my personal life. It is these ideas that make it into a central image on an idea map for further development. At the end of each day I review my list – with some ideas I create a map immediately and capture the initial dump of thoughts surrounding the central image or keyword.
My Idea Capturing Tool is quite small – as you can see by the photo – I also carry a telescoping pen so it doesn't stick out of my pocket. Give it a try – get your own Idea Capturing Tool and make a habit of carrying it with you at all times – you just might capture the next great idea that will save the world from global warming, rising oil prices…
Bookmark and Share
Close
Bookmark and Share This Page
Copy HTML:
If you like this then please subscribe to the
RSS Feed
.